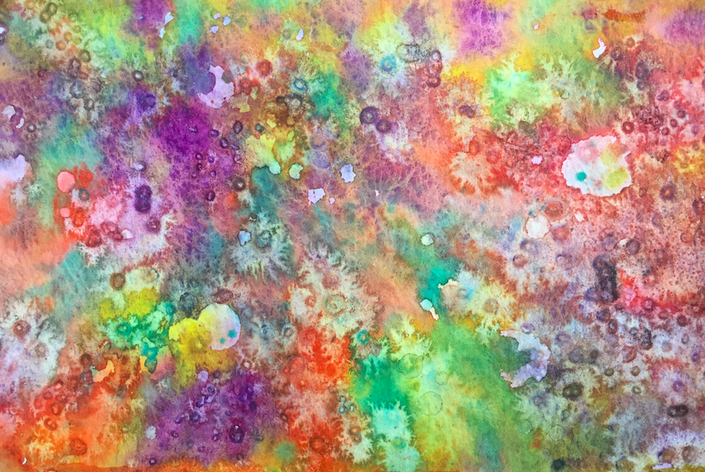 Create MAGICAL Watercolor Backgrounds!
Infused with Energies + the MAGIC of Handmade Art!
I've been offering MAGICAL handmade watercolor backgrounds for my clients who are interested in unique brand-matching backgrounds for products, e-courses, workbooks and media kits, website banner and social media memes. Creating by hand generates even more energy and amplifies intention... and when we set out intention to channel energies that support our biz and our highest good.. ANYTHING is possible!

You can see samples of some of the magic I've channeled here.

NOW... I'll teach YOU to create these magical pieces for yourself. Never again will you blend in - the art AND your energy will be AMPLIFIED!
Supply list and 1 hour video intensive. And you'll be SET to create your own magic - over and over again!
Empowering, eh?!

Your Instructor
We each have a medicine we bring into the world. For me, ART and visual beauty are expressions of MY medicine. My soul wisdom and gifts. I channel from a pure place and I take a lot of time and care to connect with the ESSENCE of things (your business, your pets, your soul). From this connection, I'm able to bring these essences out into the world - that's my GIFT!
My soul's work is to bring forth wisdom and reveal the TRUE essence of things visually. I communicate with the souls of animals, and I tap into my client's soul essence for each visual branding, graphic design, or intuitive painting commission I undertake. Because it's that powerful undercurrent that CARRIES us. We don't need to know the way when we let our TRUE selves lead us forward.

I've been a professional graphic designer for nearly 20years,working for large and small companies, for-profit and
non-profit,in-person and remotely, in print (annual reports, conference signage, advertising) and online.
I'm also an insatiable learner. A creator. An entrepreneur. And I'd love to connect with YOU.

Course Curriculum
Getting Ready
Available in days
days after you enroll
Playful Painting
Available in days
days after you enroll