Note: This is the ORIGINAL first-run content of the Create Your Own Oracle Deck Course. It does NOT include the unlimited coaching via the private FB group, nor extra guided art videos or energy work recordings, nor any video call recordings. It DOES include step by step file creation videos using Canva and/or Photoshop and audio recordings of the original course group calls.
If you're interested in more than the basic course content and tutorials, such as guided intuitive art lessons, graphics techniques, and tons of limiting belief clearings and energy healing, check out the EXPANDED Course here.
DO YOU HAVE AN IDEA FOR AN ORACLE OR MANTRA OR AFFIRMATION DECK THAT CAN get your wisdom into the world and even CHANGE some LIVES?!
Do you wish you could be guided through the process, from start to finish, and have your very own 100% unique and custom product to sell?
What if...
You could have your OWN custom oracle deck - and be selling it, in ONE MONTH?
Your deck would have YOUR wisdom, YOUR branding, YOUR love?
You could KNOW that your deck is calling to and supporting your ideal clients?
Your deck could become a unique and can't-get-anywhere-else add-on to your services, where you would KNOW your clients are getting continual support to MAXIMIZE their growth?
You could SELL your deck for however much you like, for print on demand?
WHAT WOULD THAT BE WORTH TO YOU?
Think about the possibilities:
NO ONE ELSE will be able to offer YOUR DECK to YOUR CLIENTS.
NO ONE ELSE will have YOUR MAGIC.
You'll have YOUR branding incorporated AND...
the ability to sell your own decks through purchasing your own inventory OR print on demand, where it's all taken care of FOR you!
My goal is to show you that it is NOT hard to create an oracle deck. All you need is your wisdom and a way to execute it that 1) uses whatever resources you DO have available RIGHT now, and 2) feels like YOU.
Take the leap and create and publish your OWN ORACLE DECK in just one month!
In this course, I walk you through considerations and inspiration and sourcing for images (one option is to create your own artwork), then we move to the messages module (considerations like creating or sourcing mantras or channeling messages etc), then there's the nitty gritty file processing (I've videoed tutorials in both Canva and Photoshop - your choice) and uploading and setting up your order page piece... then hitting PUBLISH!
This amazing $497 Course is an insane value and includes:
Three main modules with audio, video, PDFs and additional resources, each with 3-4 submodules
A beautiful deck created by YOU which you can SELL, give away, and enjoy!
The ability to create as many future decks as you like, simply by going through the steps again and again.
In-depth step-by-step video tutorials for both Canva and Photoshop (your choice), as well as for Gamecrafter
Access to all of Mellie's actual final files for each of her own five decks, so that you can see what the ready-to-print elements look like!
"Mellie is an amazing and passionate teacher. She is encouraging motivating and so so loving. I can't recommend her course enough...she is always available and super supportive of your process. She is very good at helping you push yourself to grow into the artist you are...there was no question for me about saying YES to anything Mellie teaches no matter what the cost she is more than worth every penny for her devotion and talent." --Farida

"I am in love with you, your art & the way you ran this course. You a talented artistic. But yet you were so encouraging & open to whatever we were about. You genuinely made me feel like I can draw. Thank you for that permission." --Moj

"I really enjoyed being part of Mellie's course and tribe. My favorite part of the course was the actual creation of the images for the cards. I was really afraid I was going to hit a wall and not knowing in which direction to move, but with Mellie's support I could easily navigate through the different directions the design process took me... I found amazing the support she gave us in the process. She was always present for us in the FB group and giving us extra resources for support. Having a group of women to bounce ideas of and for feedback was awesome. It really helped at times when life got in the way." --Marialuz

"WOW, thank you so much Mellie for this course - I had a great time!! Feels amazing when you hit the publish button!! Thank you! Thank you! Thank you! I never used Photoshop before and know I'm not so good at technical stuff. That's how GREAT this course is! BIG HUG." --Andi

"I never would have finished this or even known how to proceed without this course and the warm encouragement. Thank you, I think you have started me on to something amazing. Now, on to my next project!" --Sharon

"I'm really enjoying the modules and find them very helpful in terms of organization. Module 1.1 blew me away when I really connected and identified blocks. It's helping as I go through module 1.2 and I keep referring back to do some releasing while going through 1.2. I love the visual wisdom exercise for each card! Thank you!" --Charlotte
"Your attention to detail has been wonderful. The care you've taken to show us all we needed to know to get these completed has be the best ever. I felt supported." --Tracey
---
MELLIE'S DECKS:
Find more info on Mellie's Layers of Healing Deck on GameCrafter
---
Find more info on Mellie'sMessages from the Dogs deck on Gamecrafter.
---
Find more info on Mellie's Messages of Meow deck on Gamecrafter.
---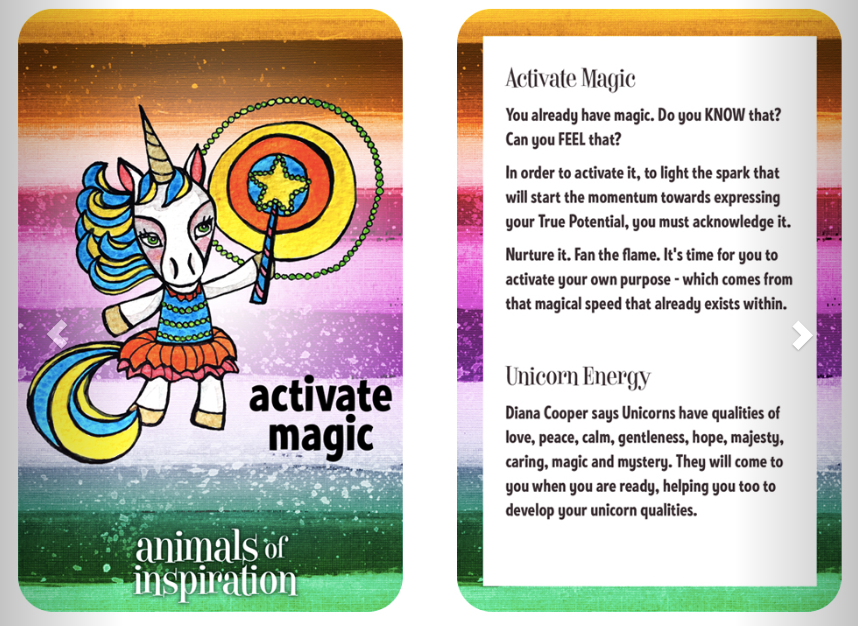 See the Animals of Inspiration Deck on Gamecrafter here.
---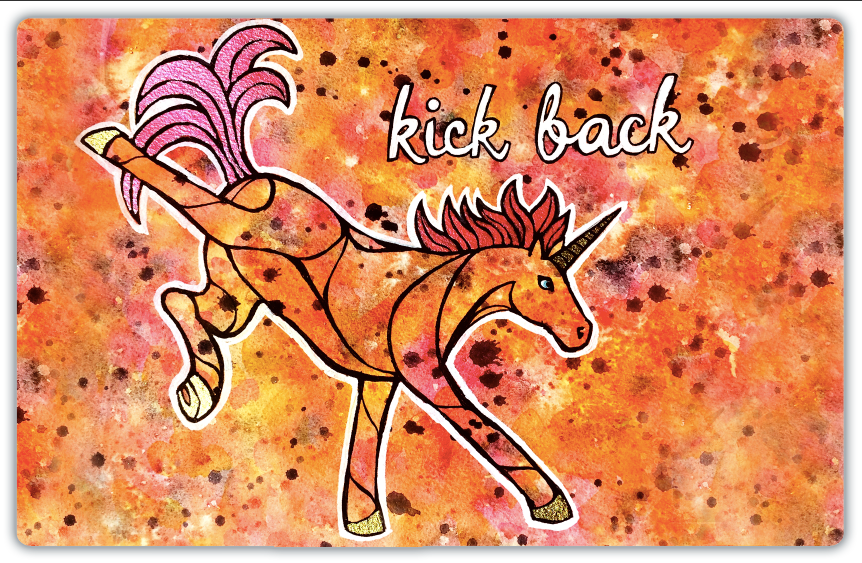 One card from the Dancing Uniquorn Oracle deck (more info and order here).
---
THERE ARE NO REFUNDS. A project of this type requires a significant energetic commitment, and you'll receive full access to confidential materials immediately upon purchase. Please make sure you're willing to accept responsibility for your own application of the materials before you purchase. Please contact Mellie if you have questions before purchasing. Purchasing this course signifies your acceptance of the no refund policy and commitment to the course content.